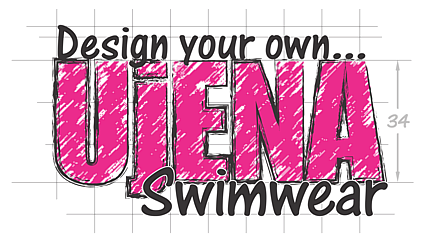 UjENA Swimwear's Design YOUR OWN UjENA Swimwear (DYOUS) is now available to YOU! Create the suit of your dreams in just three easy steps and have it delivered to your doorstep in as quickly as three days. Yes, the swimsuit you've always wanted in just 3 and THREE.
Pick your style, choose your fabric, name your suit, save it and Waaa Laaa - you're a swimwear designer!
3 easy steps to create your customized swimsuit. We'll cut and sew your design and have it delivered to your door in as quickly as three days!
UjENA DYOUS Step 1:
CHOOSE YOUR BASE STYLE:
We have carefully selected our best fitting and most popular UjENA styles for the base of your design. Choose from 10 different one-pieces, 10 swimsuit tops and 10 swimsuit bottoms. Once you have found the BEST base style for your design, you are ready for the next step.
UjENA DYOUS Step 2:
SELECT YOUR FABRIC:
We have picked eighteen fabulous prints and seventeen of our most popular solid colors for your design. Take your time selecting just the right fabric or combination of fabrics. Many base styles allow you to mix, match and be creative with your customized swimsuit. Polka dots and zebra? How about hot pink and camo? The possibilities are endless and once you've selected just the right fabrics, your design is nearly complete.
UjENA DYOUS Step 3:
NAME IT AND SAVE IT:
Your design is done... you've double and triple checked it and you LOVE IT! The style is perfect, the fabric is gorgeous and you are feeling good. Now your custom design needs a name. Lisa's Cross-back? How about the Cabo Cruiser Bikini? Be creative and have fun. Once you've selected the perfect name, now it's time to Save it! And, once you Save it and place your order, the UjENA sewing staff will get to work cutting the fabrics and carefully sewing it just for YOU! We'll have your suit cut, sewn, trimmed, complete and ready to ship within two days.
Please note that our custom order items are non-returnable. UjENA dollars may not be used to purchase custom Design Your Own UjENA Swimwear items. Your selected shipping rate and delivery times are in addition to manufacturing time, for example overnight shipping would be three business days to delivery. Orders made on our regular business days before 11am Pacific time will be charged and started on the same day.